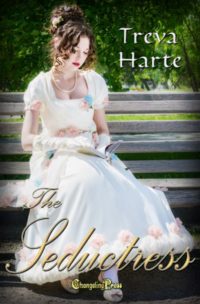 Miss Emily Whitethorn once vowed to marry only for love, but when she finally accepts the reality that she must follow her mother's demands and marry a titled gentleman, her plans turn to seduction. The first person on her list of eligible bachelors is Lord Northenly, the Earl who proposed to her years ago.
If only his younger and untitled half-brother Kit were less distracting, and the Earl more alluring! But everything changes when both brothers propose, only to have Lord Northenly die suddenly — after showing Emily, in a most frightening way, she could never marry him.
Of course the current Lord Northenly's death makes Kit both a suspect and the next Lord Northenly — and leaves Emily a suspect, as well. There's only one solution to their immediate problem. But will a hasty marriage save them both, or prove to be their undoing?
Changeling Press | Amazon | Barnes & Noble | Kobo | Scribd | Apple
Emily tumbled into the parlor almost before poor Cooper could hurry to the door to announce her. Her cousin Sarah stood as Emily ran in.
"My dear, you're just in time for tea and… Come here first." Sarah opened her arms. "Hug me."
"Oh, Sarah!" Emily laughed against her cousin's shoulder. "You haven't changed an inch."
"Mama!" A slightly indignant voice came from behind them as the child pulled fiercely on Sarah's skirts. "Mama, up!"
"You're getting too heavy for this, Julia." Despite her words, Sarah lifted the girl, displacing Emily from her shoulder and putting the child on her hip instead.
"Now this plump little princess has changed quite a bit since I saw her asleep in her christening gown." Emily suddenly sniffled and realized she was going to cry. "It's been so long, Sarah!"
She hadn't expected to last see Sarah at the christening and be godmother to her child… and then not return for almost three years. She'd always admired Sarah, even though she suspected Sarah thought her younger cousin was rather flighty. Maybe Emily had been when she wasn't quite eighteen and full of ridiculous plans. Now she was almost one and twenty and all her old plans had withered away with her mother's illness.
But Emily had turned over a new leaf. Now she intended to be practical. And to begin her new life, she'd begged Sarah to send her a coach and allow her to visit. Emily was in desperate need of practical advice for her new, very adult plan.
She didn't just need advice. She hadn't completely realized how very much she'd needed to see people she loved. But if she kept thinking that way, she'd start to cry again and that would worry Sarah. Sarah always wanted to fix things — and this was something Emily would have to fix for herself.
"I'm delighted to see you, of course, and you're welcome to stay as long as you like," Sarah said. "But, if you'll forgive me for asking, why now?"
Emily hesitated. "Well –"
The door opened without an announcement and William Burke strolled in. Sarah carefully put down her daughter and held out her hands.
"My lady."
"My very dear sir."
When Sarah clasped palms with her husband, he leaned over to give her a long kiss that didn't look the way most married couples kissed in public, especially after more than three years together.
Emily refused to sigh like a silly child. For all that William was a mere lawyer and didn't cut a dashing figure in his sober clothing, she envied Sarah. Sarah still had a romance after all this time.
Of course it was that way of thinking that had helped Emily get into her current predicament.
"Pardon me," William said. "I appear to have interrupted your tête-à-tête. I didn't realize Emily was visiting today."
"Isn't it a wonderful surprise? I didn't know you were returning home so soon or I would have written to tell you." Sarah kept her hands in his as she spoke, and then seemed to realize what she was doing in front of company and stepped back.
Julia took that as her invitation to clamber up her father's leg until he scooped her up to be held.
"I shall retire to the study with my secretary to leave you two alone. I came home a bit earlier than expected, but I brought Christopher with me to help me with my work… pardon me again. Mr. Christopher Aldean, may I have the pleasure of introducing you to Miss Emily Whitethorn, my wife's cousin."
Emily hadn't really looked at the second visitor until William stepped back during his introduction.
"My distinct pleasure, Miss Emily." The man gave a graceful bow and she curtseyed, not knowing how to respond.
He was handsome enough, if you liked blond hair and a lantern jaw — actually handsome enough to make her blink a little, as if he was a romance hero come to life — but no. That was how the old Emily would think. Instead of looking more, she took a deep breath and thought critically. There had been something odd in what William had said.
She realized why she was more puzzled than admiring once she ignored the man's looks. Why did a secretary merit an introduction to her, rather than the other way about? From his last name, he must be some obscure cousin of Sarah's late husband, although Emily didn't remember ever having heard of him. Her cousin-in-law rarely made etiquette mistakes, so she'd doubtless find out the reason soon enough. She had been out of ton circles so long she'd probably forgotten why he was important.
"Kit, I'm so pleased to see you again. We rarely seem to have a chance to talk unless Julia and I travel to London," Sarah said. "Emily, do you mind if these two intruding men have tea with us? Will, I was just about to offer her some when you arrived."
"I'd be delighted for both the tea and the company. Even with your beautiful coach, my travel lacked good food and conversation." And perhaps Emily could put off her own explanations a little longer.
"You came directly from Bath, then?" William said, sitting next to his wife as she told the footman what was needed.
His secretary limped a little as he made his way to the empty chair near Emily.
"Yes. That's where my mother now lives, Mr. Aldean," Emily said in explanation. "I miss London, but Mother decided Bath would be best for her health once she fell ill."
Everyone paused. Emily raised her chin and said, "And I may just as well say why I came rather than avoid the subject. You know I'm not mealy-mouthed."
Sarah smiled. "Indeed."
"I've decided I need to get married as soon as possible."
"Marriage for the sake of title is not what Emily Whitehorn had in mind for her future, but with few romantic prospects after caring for her ailing mother for years, can her cousin Sarah, the former Lady Northenly, help her check off her list of suitable gentlemen to approach? Juicy however is Emily and Christopher's bedroom activity, which occurs not just in the bedroom but in other, less conventional, settings. I think we can look forward to even more eyebrow-raising escapades as this quirky period-piece series continues!"
— 4 Stars from Jean, The TBR Pile Reviews