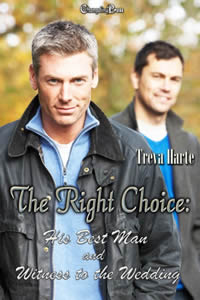 His Best Man: Chris always knew where he was going and how to get there, but when his wife walked out on him and the girls, he realized not knowing what's important in his life might be the problem. He's lost touch with his daughter, his friends, and himself during his marriage. And then Bill — his former best friend — drops back into his life.
Witness to the Wedding: Bill and Chris have never had an easy path, and dealing with the aftermath of Chris's marriage doesn't make life easy. With Chris's soon-to-be ex threatening to take their family from them, Bill's worried loving Chris and his girls just won't be enough.
There were some twists, a lot of steam and a good amount of family drama that kept this a page turner. You really couldn't stop at the first book…definitely need to keep on to see the out come of these two delightful guys.
Latecia M Jennings, Amazon Review