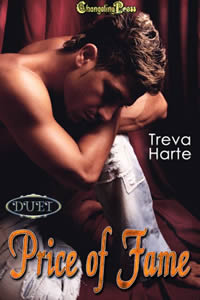 Duet (Price of Fame 3)
Gene Price, former teenage star, has been living the simple life. He's cut himself off from anyone who knows about him and his former bad reputation. Out of the blue he begins to get death threats. He doesn't want any part of his past nowadays, but the only one he trusts to find out what's going on and protect him is Leo, his former bodyguard — the one he'd slept with before he fired him.
Leo was sure Gene would see the advantages of staying in California — with Leo — once he gets Gene back home. But it looks like Gene's only here to find out why he's been threatened, and to make sure his only friend in the state isn't the one making threats. Leo knows finding out the truth could leave Gene disillusioned and in danger. It probably doesn't matter that Leo cares a hell of a lot for the guy. Enough to protect him, find out the truth, and let Gene decide whether to stay or go.
Changeling Press | Amazon | Barnes & Noble | Kobo | Apple
"…the balance between the plot, the chemistry and romance between Gene and Leo and the fledgling trust and relationship between Gene and Joseph was well handled and helped me really enjoy this story. Fast paced, short and sexy this was a good read and one I will enjoy again in the future."
 –  Fern, Long and Short Reviews for Going Back
"Nicely written… Good plot with lots of action."
— 4 Stars from Ula, Amazon Review for Guarded Heart
"With plenty of danger and action, not to mention some seriously hot sex and sizzling chemistry I found this to be a good and quick read. I enjoyed seeing the resolution to the plot and loved the growth in the relationship between Leo and Gene. A good, fun and sexy read."
–Fern,  Long and Short Reviews for Guarded Heart
Rating: 5 Stars- A Must Read
​Heat: 4/5 – Smoking Hot
If you enjoy romantic suspense this is a must read!